THE TEAM
Our trained, experienced teachers offer around 30 varied classes per week. We have 20 teachers to give you variety and to prevent teacher burnout.
Our teachers offer a range of styles and backgrounds and all focus on your safety & having fun. 
We also host visiting teachers and workshops such as Inversions, Beginners & Yoga Nidra.
Welcome to House of Yoga & Wellness.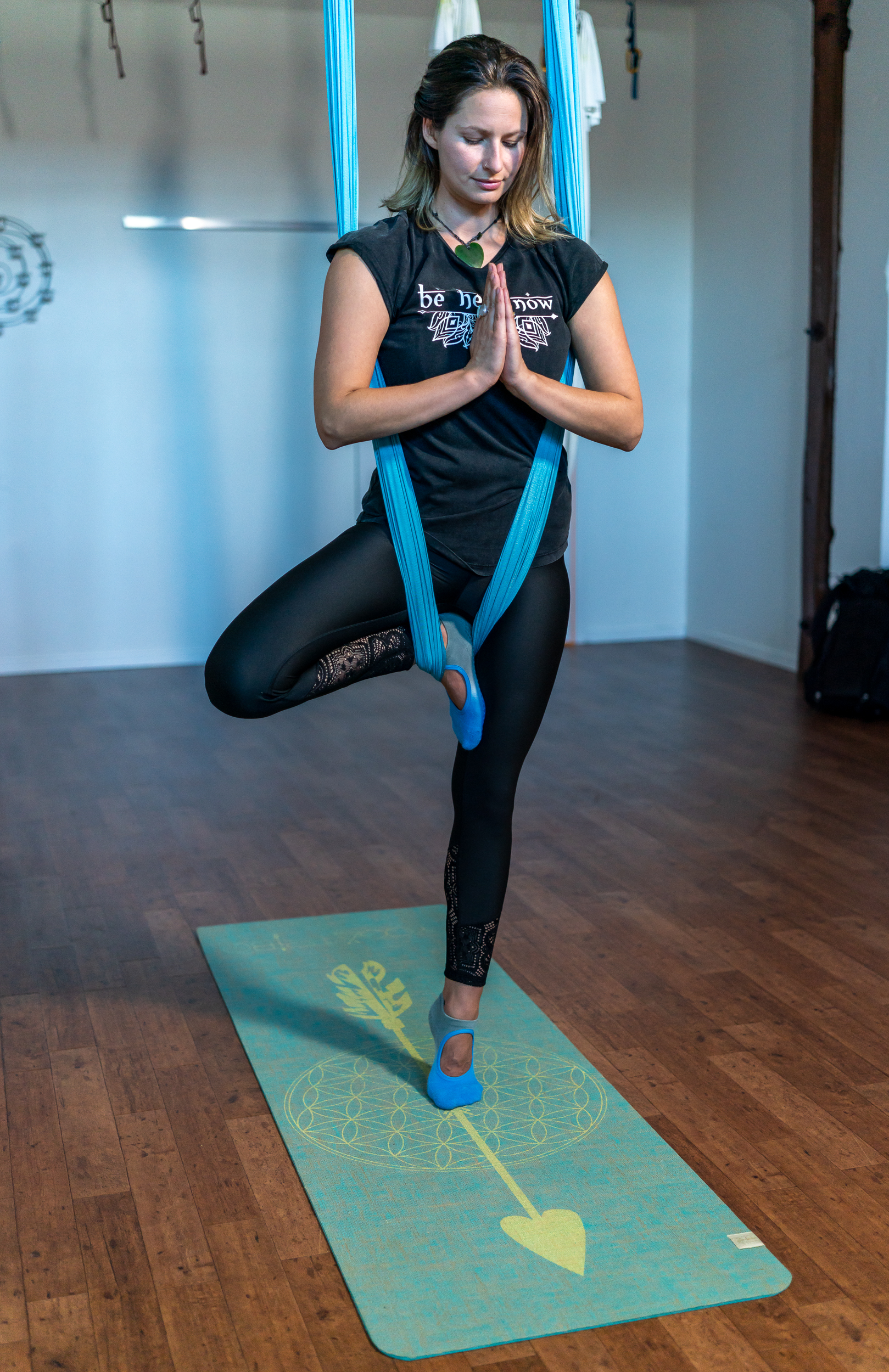 MEG ANDERSEN
Owner & Studio Manager
Hi, I'm Meg,  Owner and care taker of House of Yoga. I'm a Yoga and aerial teacher passionate about community, movement, and trauma-informed practices. I have a background in early childhood education and beauty therapy.  I enjoy creating nourishing, nurturing and empowering paces for people.
I look forward to connecting with you.
RYT 200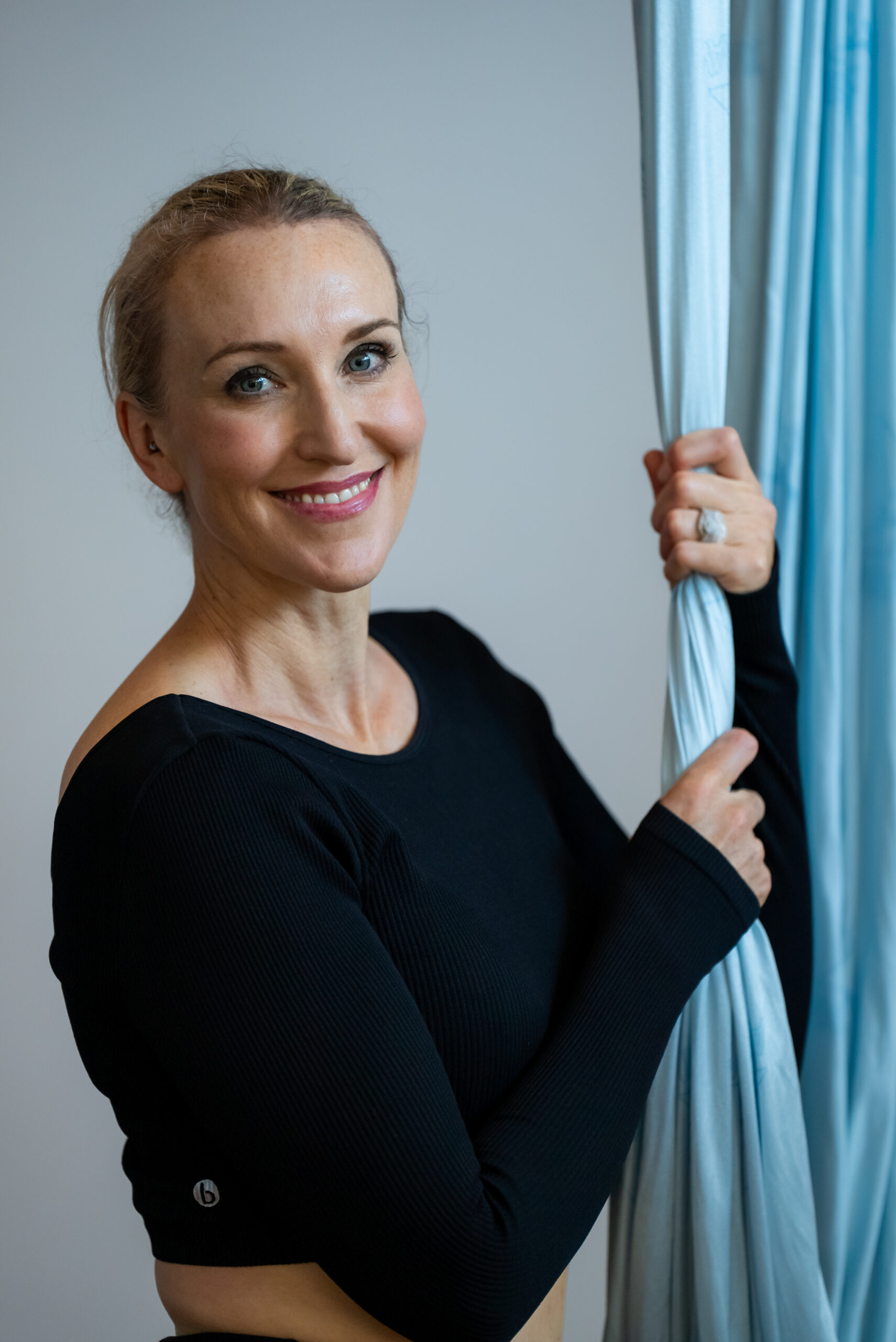 LOU KIRKHAM
My passions in life include movement through music. I love the beach and enjoy surfing whenever I get time to take a break from my busy life.  My younger years were filled with creative arts and competitive sports, including Rhythmic Gymnastics, dancing, competitive swimming, top-level netball and athletics.
My desire to live life to the fullest is what brought me to where I am today.  After being a full-time mother for 5 years, I wanted to combine my lifestyle of daily exercise with my working life in order to maximise time with family, friends and the great outdoors. I wanted to find a way to take my exercise away from the gym to methods that were in line with my passions and interests.
The idea of yoga and similar exercise techniques, has always appealed to me. I knew the benefits; it just needed to be a little more of an upbeat tempo for me. Then I discovered AntiGravity® Fitness and here I am healthier and happier than ever before!
I have a positive attitude towards life and a great sense of humour. I pride myself on giving 100% in all that I do and look forward to helping others reach their full potential through their AntiGravity® Fitness experience.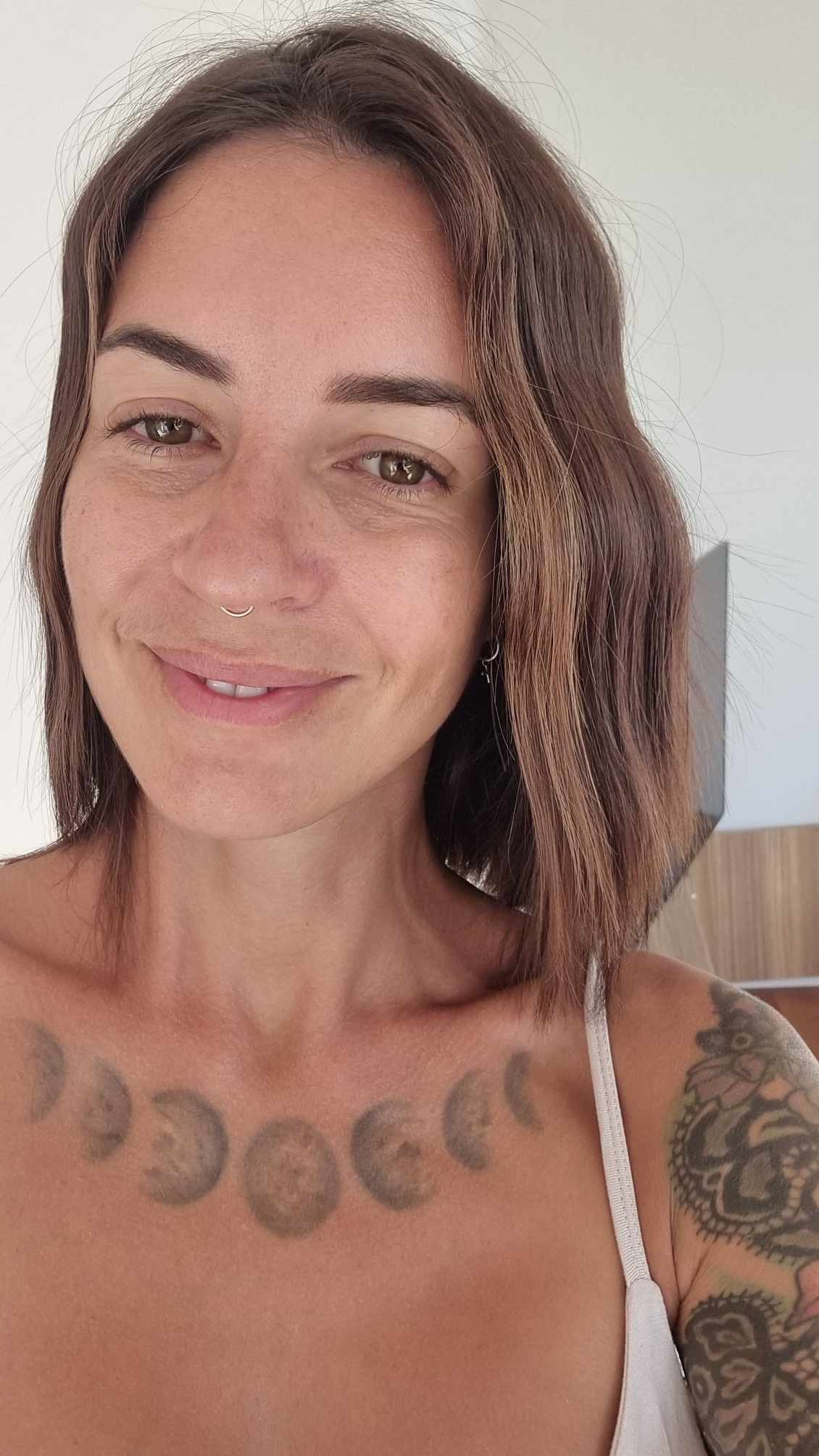 TINEKE ROSE
Senior Teacher – Vinyasa, Ashtanga, Yin + Restorative
Over the past 7 years Tineke has dedicated her lifestyle to learning & sharing yogic practices. Travelling all over the world, residing mostly in India she has found peace in the practice of yoga and believes in the compassionate way of living that it promotes.
With over 500hrs of teacher training and months of ashram living, Tineke has been sharing with students and training teachers about the easy balance that yoga can bring.
E-RYT500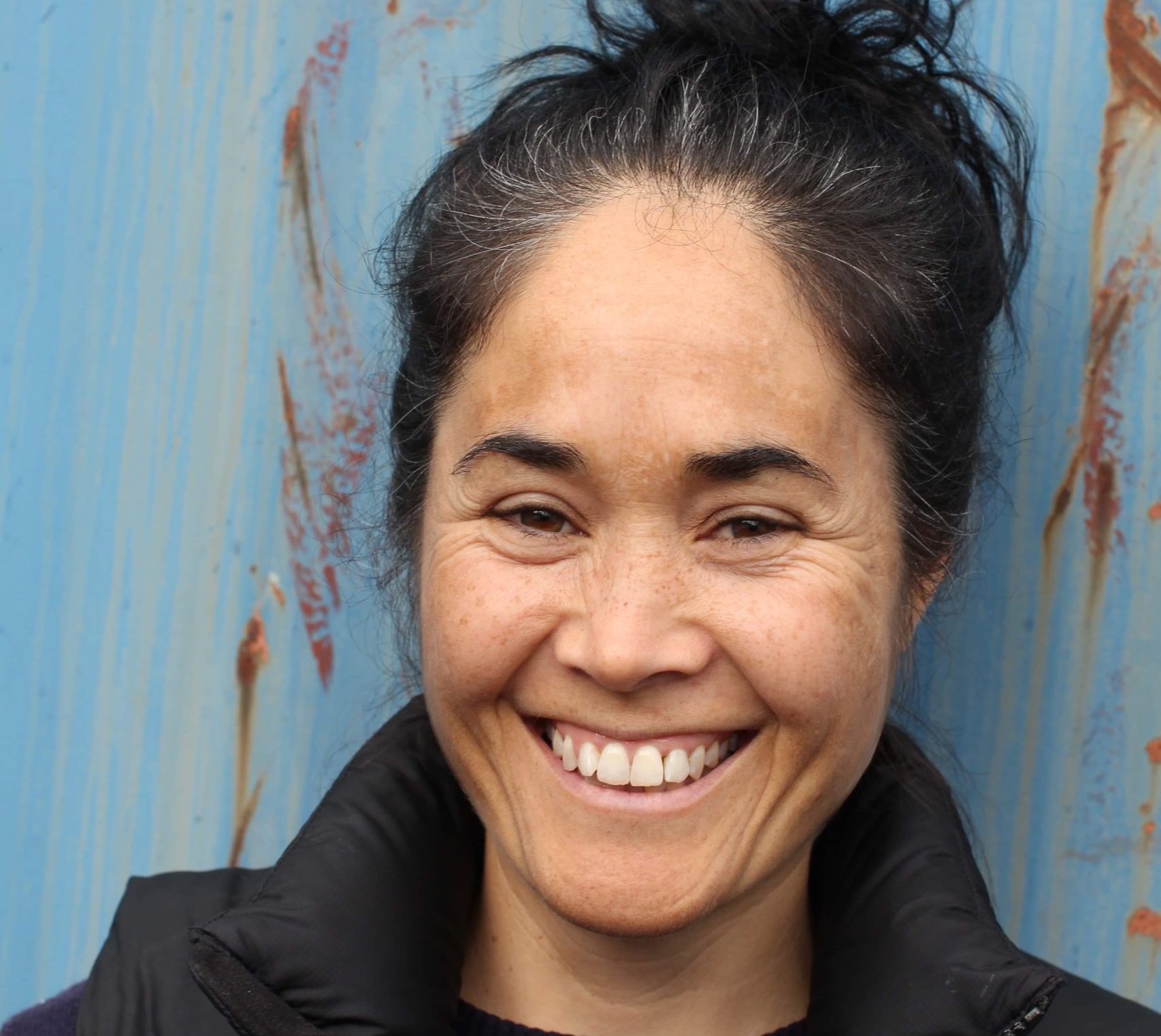 MARIA KEREWARO
Maria first discovered Yoga in 2008 while living in London. After completing various trainings she began teaching a Vinyasa style practice at Hot Power Yoga, London where her own journey on the mat had begun. In 2013 she decided to return to New Zealand while pregnant with her second child.
Maria's strengths are teaching a moving practice with a mixture of sequences that balance and strengthen the whole body. She believes it's not what the pose looks like, but how it feels and will encourage a deeper connection to the physical body through breath and becoming present.
RYT 300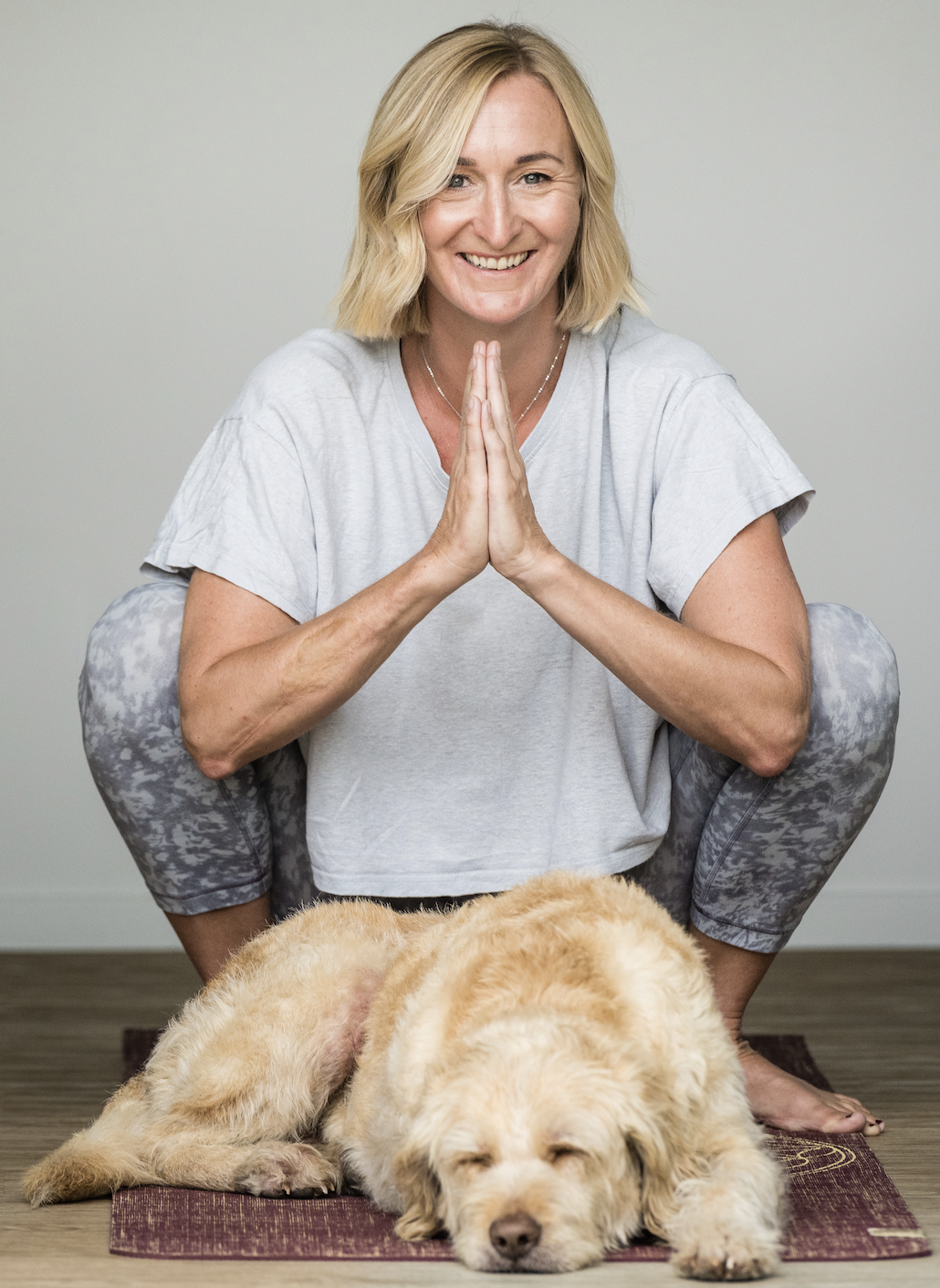 KATHERYN HYDE
Katheryn completed 200 hours of
Yoga
Alliance Training in 2020 following Satyananda from the Bihar School of
Yoga
in North India with a focus on 'Hatha' style, incorporating asana , pranayama and meditation as a means of finding mental, physical and spiritual balance. She joined HOY in 2021 and she loves the sense of community and connecting with others through yoga.
"Consistent practice both on and off the mat makes life so much easier and enjoyable" and something that motivates Katheryn to teach others.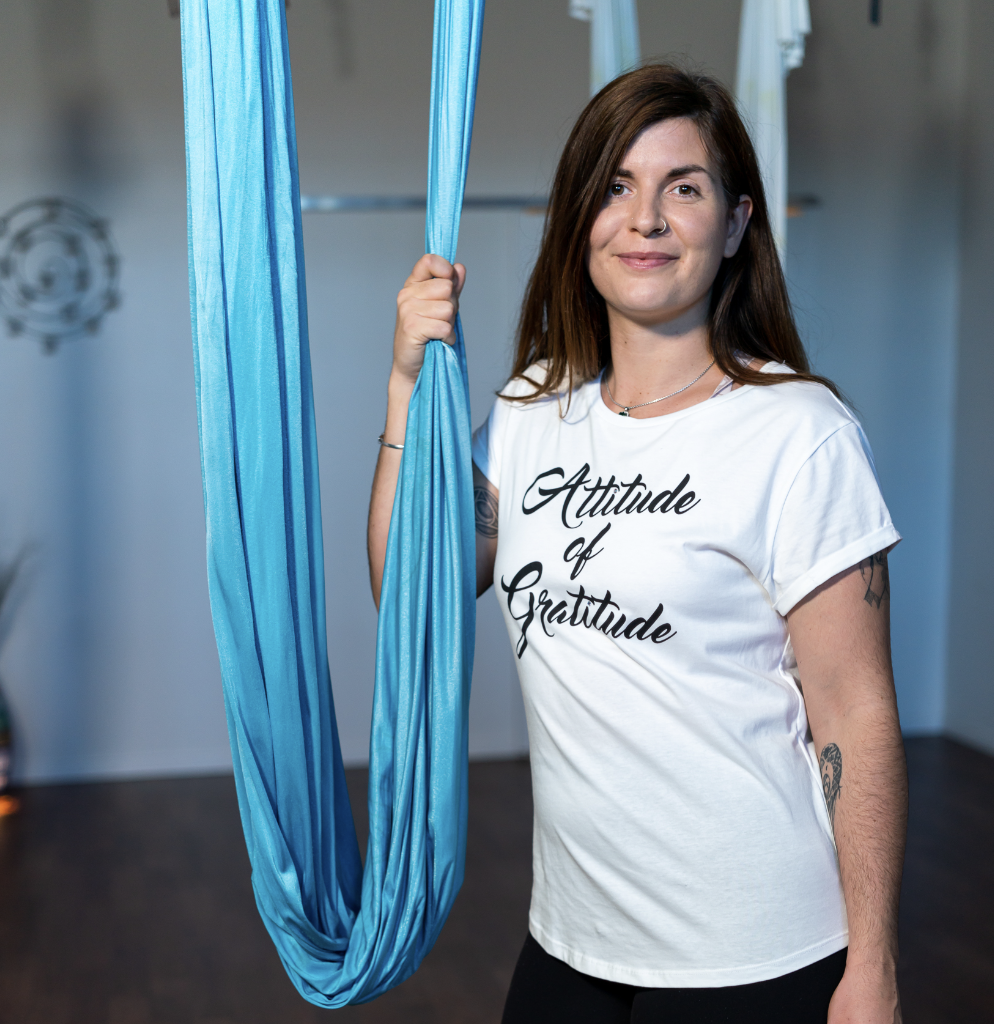 SASHA MILJUS
Half Serbian, half English and a whole amount of LOVE, LIFE AND MAGIC!
She is a Yoga teacher with 500 hours worth of training under her belt. 
She loves the sense of self achievement that comes from the gift of the hammock. Sasha believes "you have the power to make your intention a reality."
One day she saw the woman she wanted to be, breath by breath, day by day, she's making her way there.
RYT500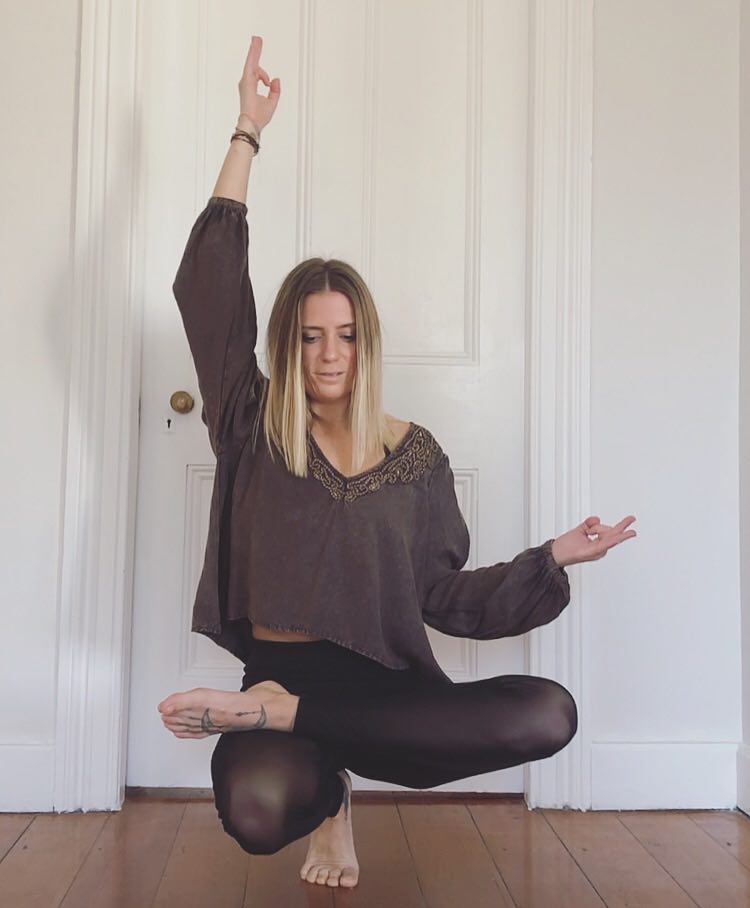 LOU EMPSON
Lou started out practicing hot yoga in 2014. What drew her to the practice was the intensity of it. She was in awe that one minute you weren't sure you had the energy to peel yourself off the mat and the next, you were bounding out of the studio with an enthusiasm for life you never knew you had.  What Lou loves the most about a 26&2 style class is that the set sequence frees up a little more space in the mind to allow yourself to really focus the thoughts inward; and that it teaches compassion, for ourselves and for others.
Even though 26&2 can be an intense class, Lou teaches it with kindness and compassion, will always offer alternatives for those that need it and different ways to understand the postures and their benefits.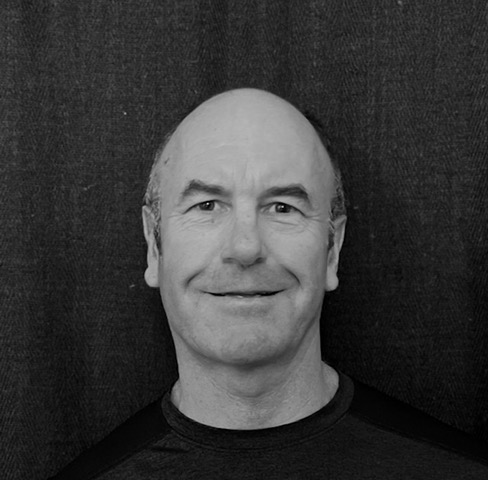 MIKE DEANE
Mike, New Zealand's sole Navakaraṇan instructor, expect inversions, arm balances, and strengthening poses in this session.
Mike's journey is inspiring—he completed essentials, modules 1 & 2 in Italy, and recently, module 3 in Spain under Dario Calvaruso's guidance for a total of 108 hours. Experience the magic of in-person Navakaraṇa, a method taught solely offline.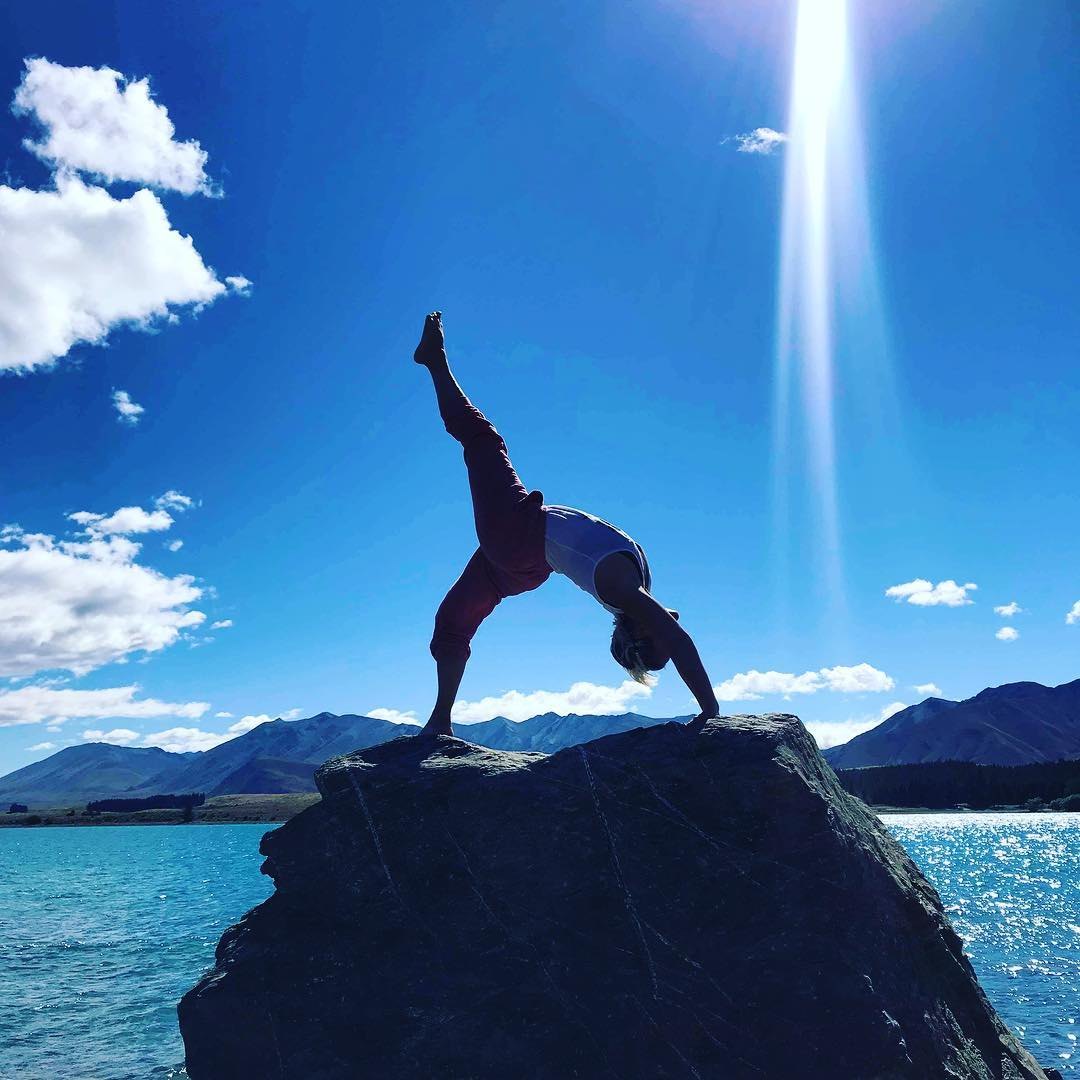 LEIGHIA MURRAY
Leighia is a certified Yoga teacher and trained Ayurveda practitioner with over 20 years experience practicing Yoga Culture. She has studied with many respected lineages throughout the world, which has afforded her to meet and learn from different interdisciplinary Yoga principles styles and teachers.
She believes that teaching is a privilege through a yoga shala that provides a space for students to explore the healing and transformative effects on and off the mat that her own personal journey continues to provide and awaken. Leighia believes movement is medicine and a powerful healing modality that allows the student to connect back into the dance of life that frees one from restrictions and reminds us of our true essence that is wise, wild and free.
Through providing a deep diversity of practices from classical Hatha to Vinyasa, Pranayama and meditation and the healing of its sister science Ayurveda are incorporated in the practices to support an international relationship to take off the mat and back out into the world.
"I strive to be like my Yoga mat it has never seen so many versions of me, and it has never said no to a single one"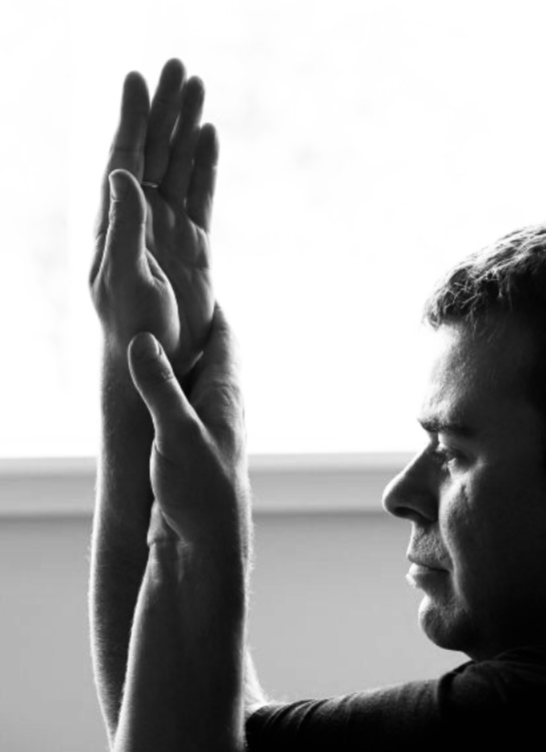 SCOTT MILHAM
 Scott is an ex-professional ballet dancer who trained at the New Zealand School of Dance and performed with such companies as the Hong Kong Ballet, Sydney Dance Company, Australian Opera, Footnote Dance Company. He was also a teacher and examiner for the British Ballet Organisation in NZ and the UK.
Scott started his journey with yoga at 19 while dancing in Hong Kong. He has studied with T.K.V. Desikachar and Erich Schiffmann and holds 3 yoga-teaching certificates as well as studied Anatomy at New Zealand Acupuncture School. Scott ran his own yoga business for 18 years in Wellington, teaching for such organisations as the NZ School of Dance (10 years resident yoga teacher), Royal NZ Ballet, All Blacks, Hurricanes Super Rugby, Lions Wellington Rugby team, Wellington Rugby Academy, Blues Rugby Auckland, Big Day Out (Backstage artists yoga instructor), Park Road Post and Wing Nut Films, NZ Parliament, NZ Reserve Bank to name a few as well as many private clients from actors, musicians, business people and sports professionals.
Scott's yoga style is a mix of all the different teaching and styles has as studied over the last 25 years. His classes are full of detailed information re alignment, anatomy, and technique of Asana. Moreover, Scott's yoga classes are a study of the philosophy of yoga and honour all eight limbs of the Ashtanga of yoga it is "not just a sophisticated PE class" (Erich Schiffmann). As a drummer and great lover of music, his classes also come with his own unique soundtrack.
Scott has also completed a BA in Art History and English Literature from Victoria University and has recently completed Master of Teaching degree at the University of Auckland.
"Yogairaj Scott Milham has been a student and friend of mine for years and years and years. He's a Freedom Yogi to the core. He knows that discipline culminates in intuitive practice, and that intuitive practice culminates in an intuitive guided-from-within lifestyle. Scott lives this way and can help you do the same."
Erich Schiffmann
Yoga Master and author of the New York Times best-selling yoga book.
'YOGA: The Spirit and Practice of Moving into Stillness'
RYT 200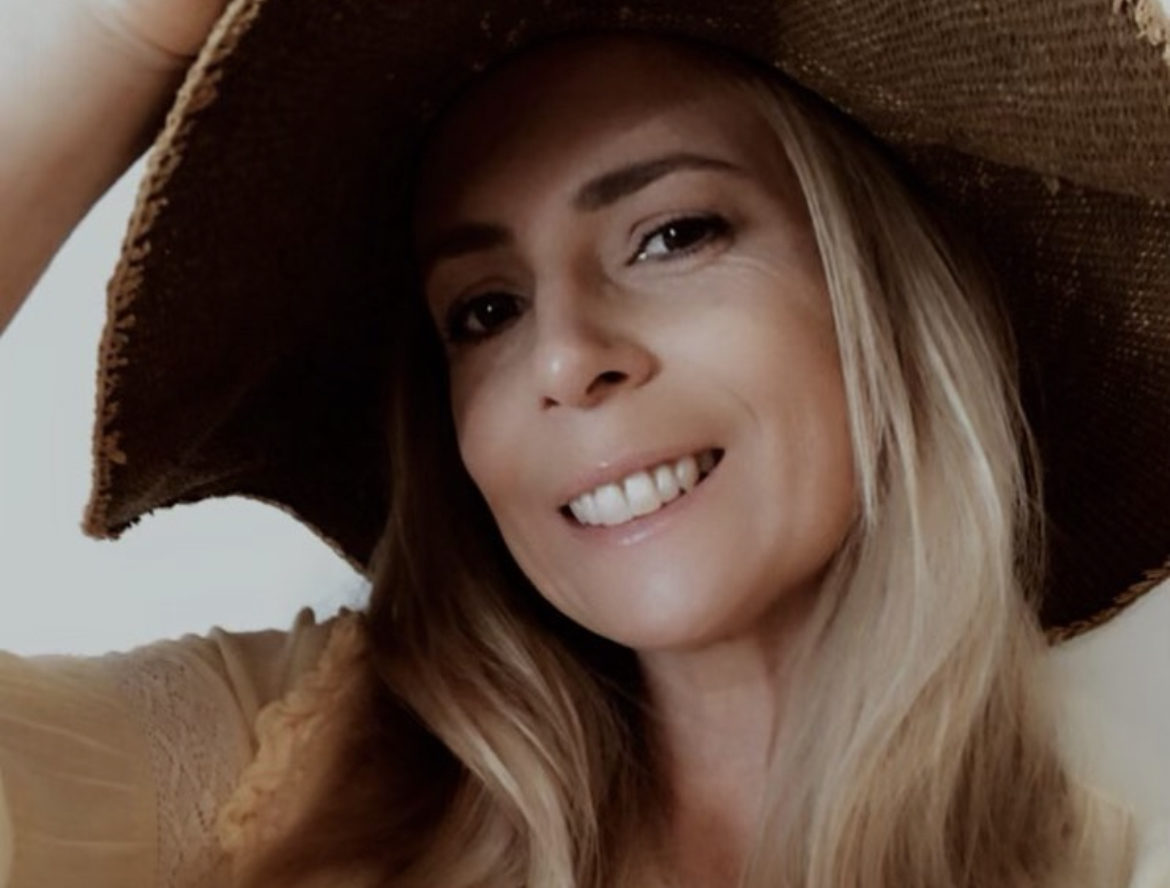 CLARE LAURSEN
Yoga for Clare is a daily practice including meditation, asana or mindfulness.
Clare found her connection with yoga in 2005 – the methods have supported her throughout life's challenges; the most important has been learning to truly breathe properly.
In 2018 she was inspired to teach to help students find stability, ease and flow through connection between breath, body & mind. She's continued her study with a 50hr creative and meaningful sequencing module.
Clare teaches the Beginners Yoga course & covers classes. Her goal is to nurture each student through safe alignment in core and foundational poses, while weaving the essential ancient traditions of yoga into each practice.
RYT200+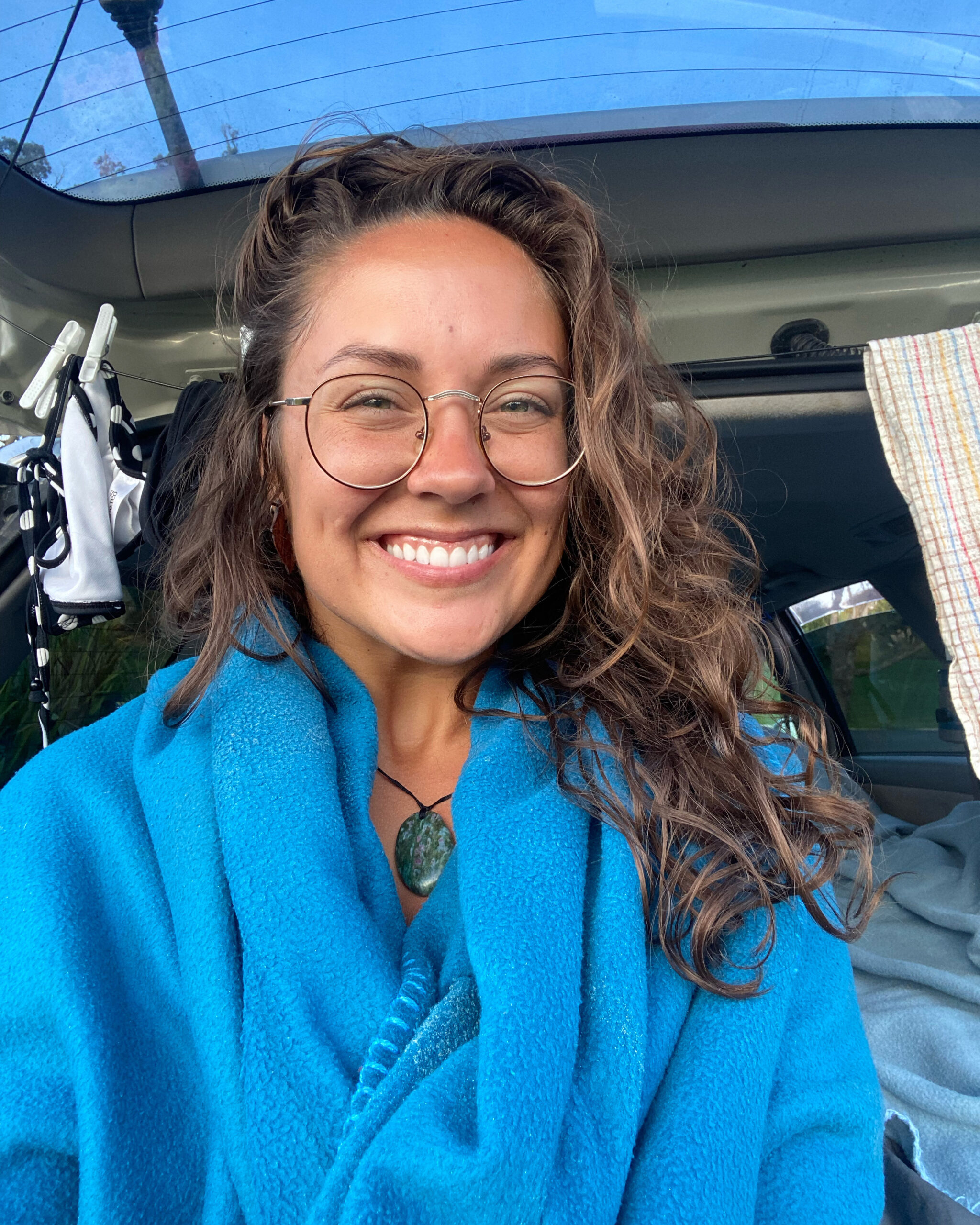 EILISH KENNERD
Meet Eilish, an intuitive massage therapist specializing in Deep Tissue Massage. With a deep understanding of the body's energy dynamics, her transformative approach addresses both surface and profound muscle layers. This technique unlocks energy blockages caused by contracted muscles, promoting healing and well-being. Whether you're seeking relief from chronic pain, back issues, or emotional imbalances, Eilish's therapeutic touch revitalizes your body and soul. Arriving from Canada in March, her free-spirited nature and healing passion create a space where intuitive relaxation harmonizes with the power of Deep Tissue Massage. Experience profound healing with Eilish's transformative touch.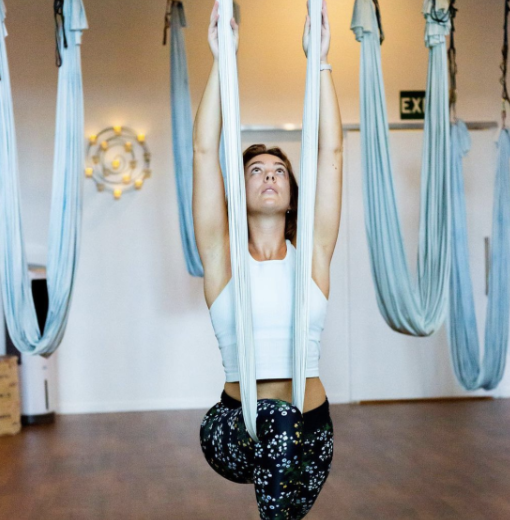 GEORGIA BURR
Georgia's introduction to yoga was back in 2013 where she first met the mat in a fiery practice in a hot yoga class. She fell in love with the practice and the connection it allowed between breath, mind, body and soul. In 2022 she completed her first Yoga Teacher Training in Ubud, Bali, where that fire could no longer be contained and she just had to share it. This training had a core focus on the Vinyasa style of yoga. Georgia has combined this with her more recent learnings on Hatha to create practices that are peaceful yet dynamic, soft yet strong, grounding yet fluid. She encourages self-curiosity and invites you to move in a way that is most nourishing and supportive for your internal and external body. She now shares her love for yoga and movement in studios and gyms throughout Tauranga, and looks forward to showing you how to best love YOUR self.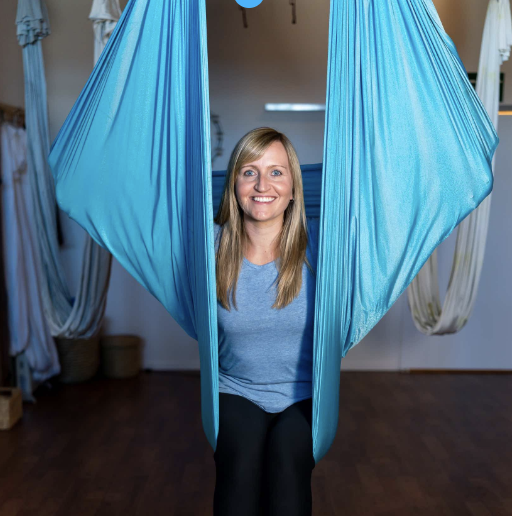 CAROL KENNEDY
Carol, originally from Scotland as her beautiful accent portrays, moved to New Zealand in 2016 and immediately felt at home.
She is one of our Senior Instructors here at House of Yoga and has been teaching with us since 2019 at the previous Float Fitness studio. Aerial Pilates is her baby but you'll also find Carol teaching our new 'Stretch & Release' class too.
Wellness has always been a passion for Carol both personally & in her career. She's a massage therapist and our resident Health & Wellness Coach.
Carol works with people, in particular, women, to guide and coach them to feel better both physically, mentally and emotionally. This is achieved through goal setting and accountability to change various habit and lifestyle behaviours, delving into all aspects of life and working with a holistic approach. Empowering people to live as the best and most authentic version of themselves is what she's passionate about.
Under her coaching umbrella she's also a Concussion Recovery Specialist and works alongside people struggling with ongoing concussion symptoms, helping them to prime their body for healing and fast tracking their recovery.
Outside of work, Carol loves living in the Mount, making the most of what our beautiful coastline has to offer and exploring the amazing little slice of paradise we're lucky enough to call home.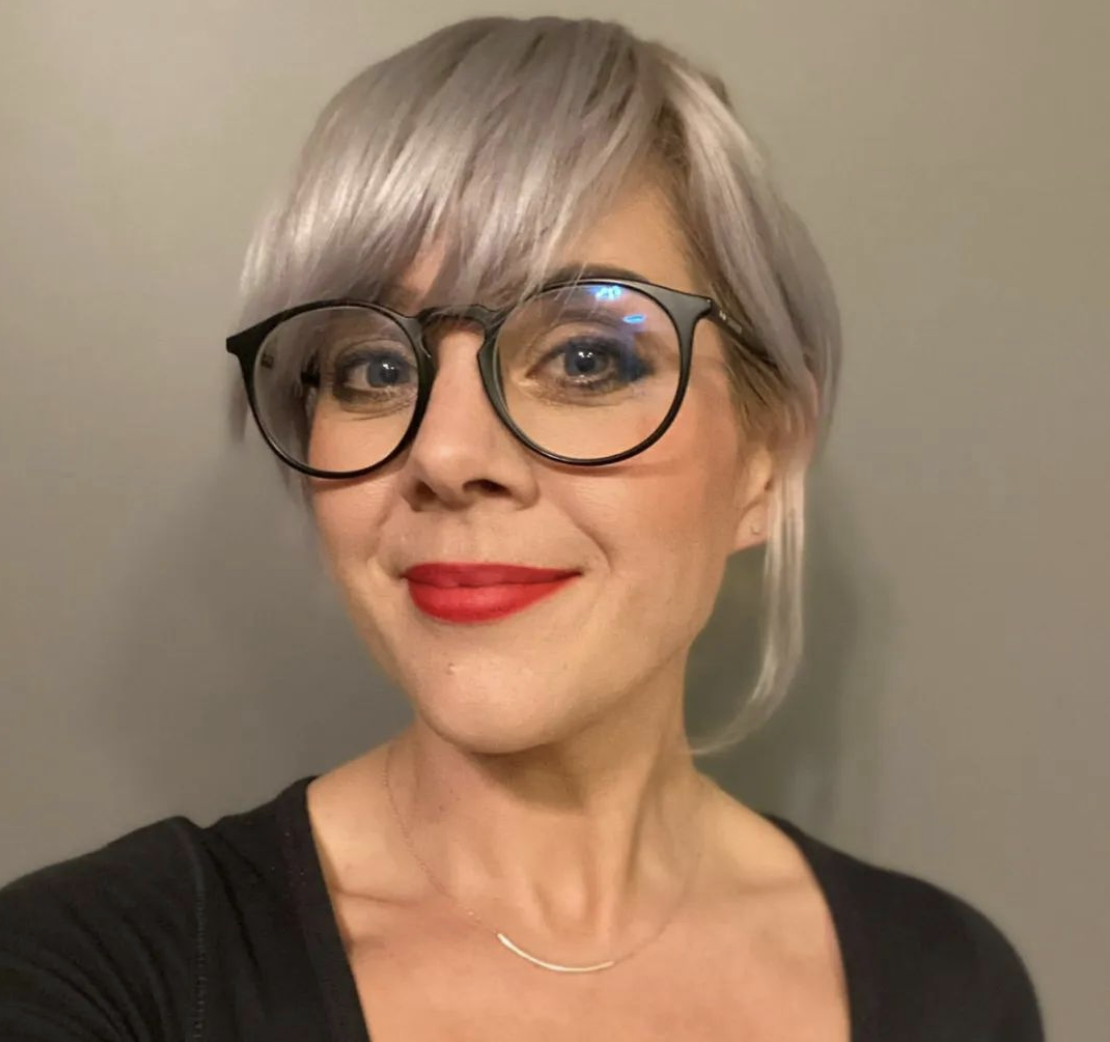 TOR CAMERON
"During the pandemic I fell pregnant. This was an uncertain time, and yoga was my guide. It was during this time that I turned my focus to pre and post natal yoga, including pelvic floor awareness."
Known for her fun and light attitude towards yoga, Tor approaches some of the more sensitive subjects of motherhood with grace, care and compassion. Her classes are a safe place for gentle practice.
Advocate for the benefits of Yoga Nidra and Yin Yoga. Interested in Trauma informed yoga & supporting mamas through loss.
Tor will be taking our Prenatal classes Saturdays at 9am